It's been a year-and-a-half, since the Surfrider South Bay community has gathered in person and it has been an incredibly difficult time for our community. As an organization, Surfrider seeks to gather and create spaces for communities to create a better world for themselves and our future generations.
As many of you know, Surfrider's mission is a dedication to the protection and enjoyment of the world's ocean, waves and beaches, for all people, through a powerful activist network. We do our best work when we're connected with our community.
This past June, we were able to connect with many of our community members for the first time since March 2020. It was incredibly inspiring to kick off our first event with Manhattan Beach Middle School students and collect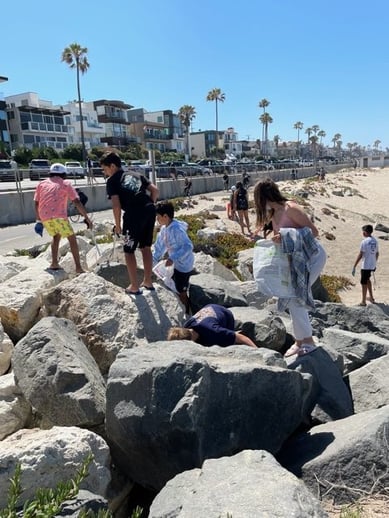 In addition, we hosted a great International Surfing Day event on July 19th, 2021 to re-engage with our community. We were able to get members of our community together for a morning of donuts, beach cleanups, and paddle outs. Check out the incredible drone footage from that morning here.
We're excited to continue hosting events like this and creating space for our community to come together.
At this time, our oceans need our protection from plastics, sewage spillage, and human consumption.
As many of you know, about 17 million gallons of raw sewage were discharged into the ocean off Los Angeles beaches Sunday night through early Monday. The local wastewater treatment plant intentionally released the untreated sewage to prevent further damage from a clogged pipe. Public health officials posted a beach closure advisory on their website urging residents to avoid swimming at Dockweiler and El Segundo beaches, but not until later that day!
After results from the ocean water samples collected over the last two days met state standards for acceptable water quality, the beaches are now back open. Learn more from the Los Angeles County Department of Public Health.
This is precisely why Surfrider fights for clean water and public health, and is calling for federal funding to fix our nation's failing sewage infrastructure! We are pushing for increased funding for the EPA BEACH Act to support beach water quality monitoring and public notification programs and increased funding for the EPA Clean Water State Revolving Fund to upgrade wastewater infrastructure and stop sewage spills at the source.
We could use your help! Together we can take action to fight sewage pollution. You can learn more about this issue here.
Spread the word, stay safe and keep fighting for clean water!
We can't wait to see you at our next event.